From an inheritance we were able to acquire a unique testimony of Catholic Apostolic church music for the Brockhagen archive. It is a manuscript printed accompanying book for organ to the German Catholic Apostolic Hymnologium (hymnal) from 1865, probably intended to accompany the Hymnologium edition of 1864. The original book still needs some attention in terms of conservation, but we can already publish a photographic digital copy here.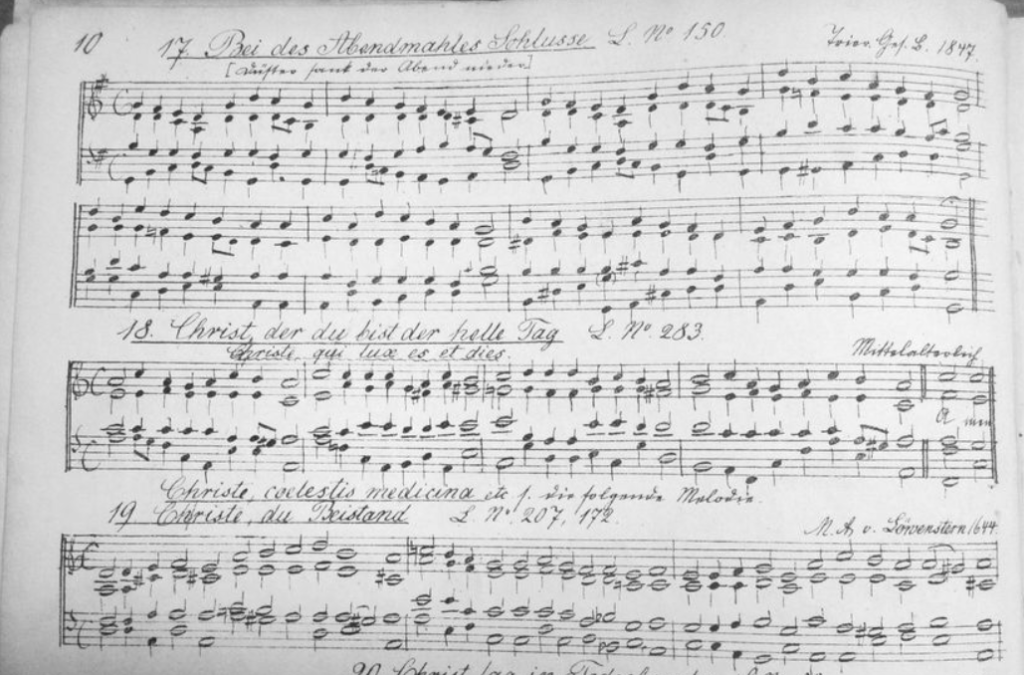 Some background: From the 1860s, especially from Germany, we have only few testimonies of Catholic Apostolic church music. For the Brockhagen archive, this source is the earliest four-part music collection of the Catholic Apostolic congregations in Germany. It seems that the chorale book is the direct predecessor of the four-part chorale book edited by Hermann Protze to the [today used] Hymnologium (download Choralbuch von Hermann Protze as pdf).
It is noticeable that in the 1865 chorale book, concluding "Amen" settings can only be found in rare cases. Also, this chorale book features alternative melody versions and settings in some cases. Thus, the chorale book is reminiscent of the work of E.A. Roßteuscher, who published a preliminary version of the hymnologium as a private work as early as 1859.
We are pleased now to be able to offer the Choralbuch for download to all music enthusiasts:
https://www.apostolische-geschichte.de/digitalisate/D0003_Choralbuch_zum_Hymnologium_1865.pdf (ca. 50 MB)
We would be pleased to receive your support for our digitization work in the form of a donation or membership in Netzwerk Apostolische Geschichte e.V..